Top 5 Crypto Debit Cards in Europe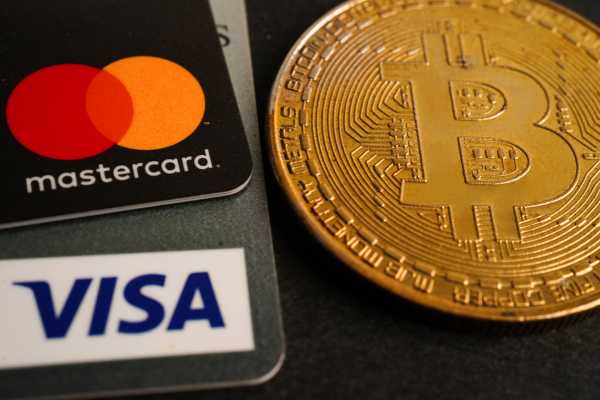 Crypto debit cards have seen a surge in demand as the number of Europeans holding crypto sees an upward trend.
The surge in interest in crypto has been such that the ECB recently estimated that up to 10% of households in the big six Eurozone countries own crypto assets.
The rise in the use of crypto debit cards comes despite the fact that the ECB views crypto assets as unsuitable for most retail investors (either as an investment or store of value, or as a means of payment).
For Europeans holding digital assets, crypto debit cards are an attractive alternative means of payment.
Crypto debit cards allow crypto holders to spend crypto and fiat for everyday purchases. Unlike crypto credit cards, which are popular in the United States, crypto debit cards automatically convert crypto into fiat currencies to meet debit card payment obligations.
Crypto holders do not need to sell their crypto to access funds. An added feature is crypto debit card rewards which are more rewarding than traditional debit cards tied to high street retail banks. As with traditional debit cards, holders of crypto debit cards can make fiat ATM withdrawals.
Although crypto debit cards all serve a similar purpose, crypto holders interested in applying for a debit card should do the necessary research to select the most suitable card on the market.
Key benefits and considerations include,
Annual fees.
Exchange fee.
Multi-currency or single currency.
Transaction fees.
Card rewards, including cash back.
Interest rates offered for holding crypto.
Card partnerships with networks, including Mastercard and Visa.
Although there are many crypto debit cards to choose from, some stand out from the crowd. These included,
Binance Card
No annual fees.
Transaction fees (payment and ATM withdrawals) up to 0.9%, excluding third-party services and network fees.
Earn up to 8% BNB Cashback on qualifying purchases. The BNB cashback rate is based on the average monthly BNB balance of the funding portfolio. Users with an average monthly balance of 600 BNB in ​​BNB receive 8% cashback in BNB.
Additional Binance Card benefits include,
Holders can keep the crypto in their Binance funding wallet and only convert when they make payments.
Cardholders can use the Binance Visa Card at over 60 million Visa merchants globally.
Binance's security protocols and security measures provide users with adequate protection against fraud and theft.
Supported by Google Pay and Samsung Pay.
Currently, Binance Card supports converting and spending BNB, BUSD, USDT, BTC, SXP, ETH, EUR, ADA, DOT, LAZIO, PORTO, and SANTOS.
The negatives include,
Transaction fees (payment and ATM withdrawals) up to 0.9%, excluding third-party services and network fees.
Cashback is based on average monthly BNB balances in the funding wallet, not card spend.
No annual fees.
Free monthly ATM withdrawal amounts that vary by card level.
No foreign transaction fees.
CRO rewards up to 5% depending on card level.
Additional Crypto.com card benefits include,
Card benefits include a 100% discount for basic subscription plans for Spotify, Netflix and Prime.
Cardholders can use the Crypto.com card at any store that accepts Visa.
Users can recharge with fiat and crypto.
The Crypto.com card supports converting and spending over 80 cryptos.
The negatives include,
Monthly ATM withdrawal limits on amount and frequency, with a 2% withdrawal fee above free withdrawal limits.
1% debit/credit card top-up fee.
To qualify for 5% rewards, cardholders must wager $400,000 in CRO equivalent for six months.
Smooth finance
No annual fees.
Simple to use, the Fluid app allows users to freely swap between fiat and crypto to spend on the Fluid Card.
Fluid account holders earn 4% interest on all deposits.
Deposits are fully insured.
Free ATM withdrawals of €400 per month.
Additional benefits of the Fluid Finance Card include,
Fluid cards are available for both Fluid and traditional bank account holders.
Cardholders can connect to a Web3 crypto wallet.
Allows users to spend both fiat and digital currencies on a single card.
Multiple card types supporting different fiat currencies including EUR, GBP and USD, with CHF coming soon.
Cardholders can spend fiat and crypto at any location that accepts Mastercard.
Account holders can send and receive money worldwide and send Fluid tokens to get cards for other people.
Referral program, where account holders can earn $10,000.
The negatives include,
Fluid Card subscriptions are annual.
Users must purchase and send a Fluid Token to a Gnosis Safe address to obtain a Fluid Card. Fluid tokens are available on Sushiswap or the Fluid app.
TRASTRA Crypto Card
€15 annual card management fee.
No transaction fees.
Cardholders can make withdrawals at ATMs, with a withdrawal fee of €2.25 per withdrawal. (ATM providers may charge additional fees).
A personal IBAN connected to the card allows deposits in EUR.
TRASTRA supports seven cryptos, including bitcoin (BTC), Ethereum (ETH), Bitcoin CASH (BCH), Litecoin (LTC), Ripple (XRP), USD Coin (USDC), and Tether (USDT).
Additional Visa TRASTRA card benefits include,
Transfers without borders in 36 countries, with a daily limit of €8,000.
No fees for receiving SEPA payments.
More than 46 million merchants worldwide accept payments in crypto and euros.
Cardholders can buy crypto with bank cards or bank transfers at no cost.
Strong focus on security, including 2FA.
The referral program offers an additional earning option. Referrers can earn €10 + 0.2% on crypto-to-cash transactions.
The negatives include
Fee of €3.00 for transfers in euros throughout the SEPA zone.
No rewards program.
WIREX card
No annual fees.
No foreign transaction fees.
Cryptoback Rewards refunds up to 2% in WXT on all spend.
Additional Wirex card benefits include,
No maximum balance, with a single transaction limit of 20,000 SGD.
Cardholders can use Wirex Card at over 80 million locations worldwide.
Users can link their Wirex card to PayPal to add funds through the Wirex app at no cost.
The link with PayPal also means that users can withdraw funds to PayPal accounts free of charge.
Multi-currency card supporting over 150 crypto and fiat currencies.
The negatives include,
ATM withdrawal limit of SGD 1,400, with a 2% withdrawal fee applied after the first SGD 400.
Incoming payment limits of 1,000 SGD or 30 transactions per day and 25,000 SGD or 50 transactions per week.
In conclusion
Crypto adoption continues to rise despite the current crypto winter. With more and more merchants accepting digital assets and, with Visa and Mastercard, as well as other payment networks, embracing the digital asset space, the demand for crypto debit cards is likely to increase.
Prospective cardholders should prioritize the card's benefits and offers to make the most appropriate selection.
While ATM withdrawal limits tend to be lower, the ability to make purchases with crypto and fiat currencies makes crypto debit cards a viable alternative to traditional bank debit cards.