The European economy is in dire straits. This week features a crucial test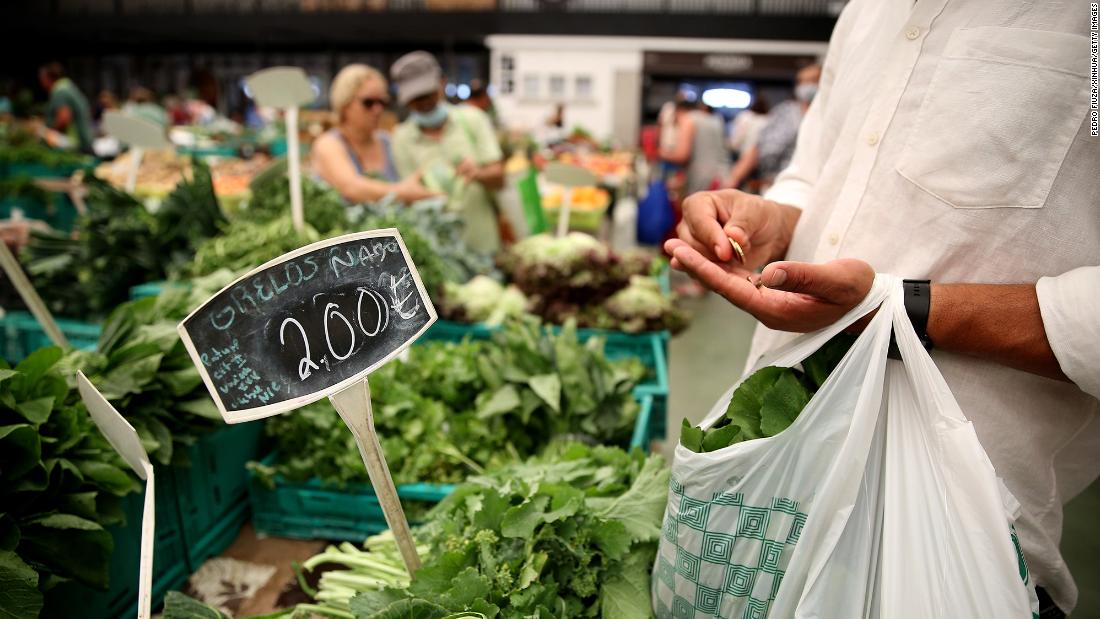 Economists warn that a recession late this year or early next year looks increasingly possible as risks mount.
"We're not in good shape," said Erik Nielsen, group chief economic adviser at Italian bank UniCredit. "I think there is a good chance that we will have a recession in Europe over the winter."
A crucial moment in the deadlock looms. Anxiety has grown since Russian gas giant Gazprom shut down the Nord Stream 1 gas pipeline for scheduled maintenance 10 days ago, sending European gas prices to their highest level since March. Flows through the pipeline are critical and have historically met around 12% of EU demand, according to S&P Global Platts.
Gazprom is supposed to resume operations on Thursday. But officials have expressed doubts about whether the pipeline will return to service – and, if so, how much gas will be shipped there.
"It is impossible for us to predict how Gazprom will act," an EU spokesperson told CNN on Tuesday.
Nord Stream 1 volumes to Germany have already fallen sharply before the start of maintenance. They plunged 60% last month, forcing Berlin to declare a "gas crisis".
On Tuesday, Russian President Vladimir Putin said Gazprom would "fulfill all its obligations", while warning that a dispute over vital turbines, which had been taken under sanctions, was jeopardizing supply.
Even if flows resume without incident, the specter of a future strangulation will hang over Europe, dampening investment and confidence.
"What we will have is a longer period of uncertainty, which will not be good for the economic cycle," said Guillaume Menuet, head of investment strategy and economics at Citi Private Bank. in Europe, the Middle East and Africa.
Inflation
Annual inflation in the European Union jumped to 9.6% in June. It reaches 8.6% for the 19 countries that use the euro.
The central bank is lagging peers like the Federal Reserve, which started climbing months ago. Interest rates in Europe have been negative since 2014, which means it is even further behind. And, if an energy shortage tips the region into recession, the central bank could be forced to halt rate hikes abruptly, hampering its ability to continue fighting inflation.
"Everything that's going on right now limits the ability of the ECB to really increase a lot," said Carsten Brzeski, global head of macro at ING, a Dutch bank.
If a recession were to occur, inflation could subside without requiring much additional central bank intervention. But economists are hardly rooting for the outcome, which would also usher in a wave of job losses.
Climate change
Nearly half of Europe, including the UK, is "threatened" by drought, European Commission researchers said on Monday.
Germany, meanwhile, is grappling with falling water levels along the Rhine, a major trade artery. There are already signs that navigation has been affected.
"Low water levels mean that river barges will have to travel with reduced freight to limit their draft or even stop operating altogether," Berenberg Bank said in a research note published Wednesday. "As a result, quantities shipped are decreasing and freight rates are increasing."
Political unrest
Meanwhile, a high-stakes political drama is playing out in Italy, the European Union's third-largest economy.
Prime Minister Mario Draghi is trying to cling on to power after his ruling coalition collapsed last week. He asked lawmakers on Wednesday to support the national unity government in a bid to avoid a snap election.
Draghi, who led the ECB and is a favorite among investors, tried to quit after the 5 Star Movement – the country's largest coalition government party – withdrew its support, saying Draghi's package to deal The rising cost of living didn't' go far enough.
If Italy's leaders were forced to call a snap election, investors fear the country's right-wing could bolster their support, raising questions about European cohesion at a tenuous moment.
"If you look now to the future – especially for growth and for the economy – political developments are clearly a risk," Brzeski said. After France's spring elections, this year was meant to be a year of relative political stability, he added.
Investors dumped Italian bonds as they monitored the situation, pushing yields higher. This further raises the stakes for the ECB, which is expected to unveil a new tool on Thursday that would address the dangerous fragmentation of the bond market. The fear is that if bond yields in Italy or other highly indebted countries like Greece jump too high, financial conditions would quickly deteriorate.
Recession risk
An economic forecast published last week by the European Commission predicted that the EU economy would grow by 2.7% in 2022 and 1.5% in 2023. Average annual inflation is expected to reach a record high of 8 .3% this year before falling to 4.6%.
A recession is not a given, according to Sylvain Broyer, chief economist for Europe, the Middle East and Africa at S&P Global Ratings. Household finances remain strong and public investment is on the rise, he noted in a recent research note.
This summer is also expected to bring a busy travel season despite airport chaos, supporting economic activity.
Broyer said that while "a sharp slowdown in growth is 100% sure", the chances of a "full-blown recession" are lower – somewhere between 30% and 43%, according to his estimate.
Still, the odds are increasing. A survey of European fund managers by Bank of America released this week found that 86% of respondents expect a recession in the next year, down from 54% in June.