Strategic stalemate in Ukraine: this week in emerging Europe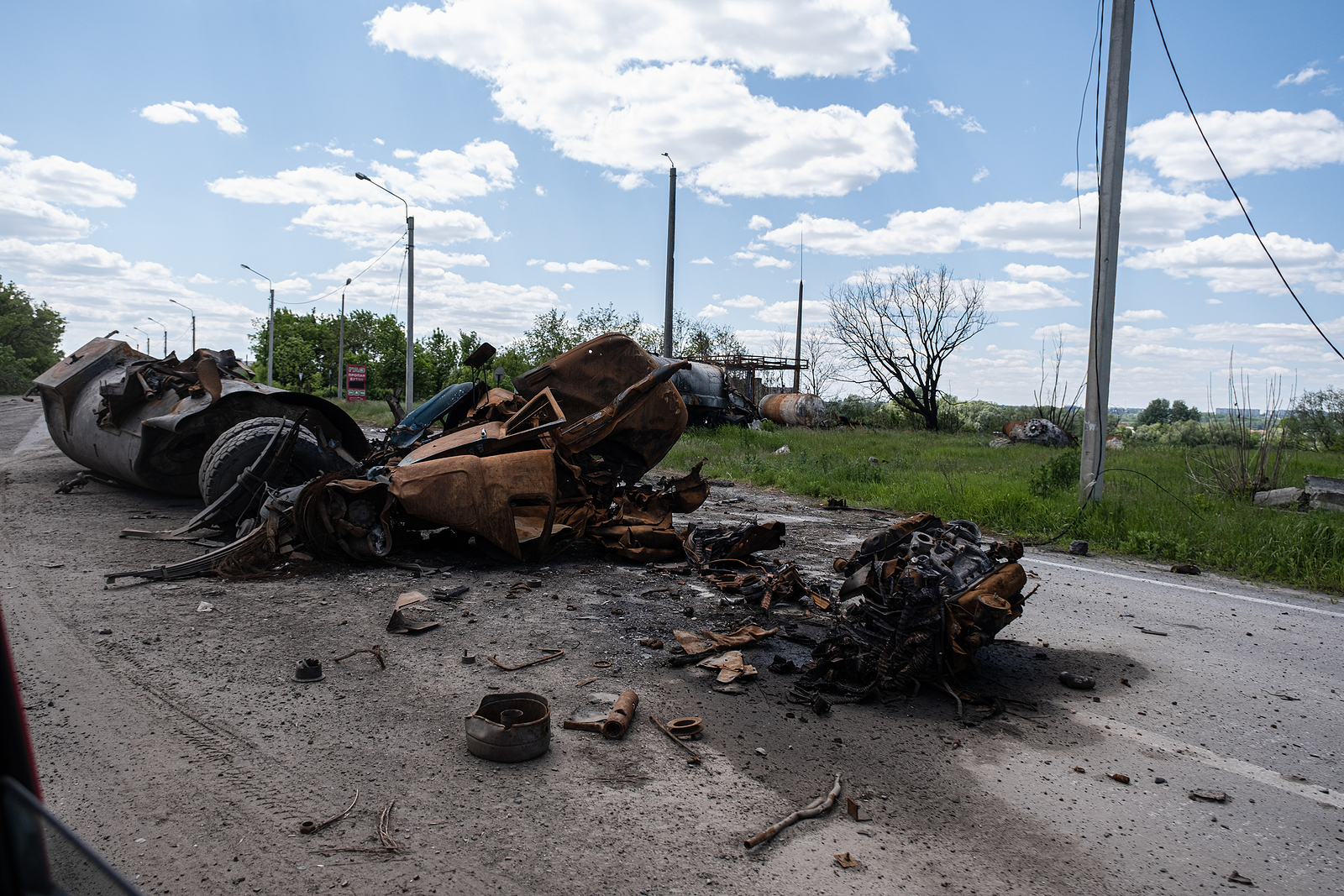 You can read all of our coverage of Russia's invasion of Ukraine, including explanations and articles offering background and contextual information here.
---
The Russian invasion of Ukraine
Russia's war on Ukraine is at a strategic stalemate, a senior adviser to President Volodymyr Zelensky said this week. "Russian forces have made only minimal progress, and in some cases we have made progress since last month," adviser Oleksiy Arestovych said.
Four people were killed and 20 others injured in a pre-dawn shelling of a residential area in the eastern Ukrainian city of Kharkiv. On Thursday, Oleh Synehubov, the regional governor said. It was the heaviest bombardment on Kharkiv for several weeks. In the southern Slobidskyi district, "one of the missiles hit a four-story dormitory. The building is partially destroyed. Initially, two people died, 18 were injured, including two children," Synehubov said in a statement. posted on social media.
The high attrition of Russian main battle tanks in Ukraine is most likely due in part to Russia's inability to install and properly use adequate explosive reactive armor (ERA)., according to a British intelligence report. Used correctly, ERA degrades the effectiveness of incoming projectiles before they hit the tank, the UK Ministry of Defense said on Thursday. "This suggests that Russian forces have not rectified a culture of misuse of ERA, which dates back to the First Chechen War in 1994," the report added.
The main bridge connecting Crimea to the Russian mainland must be "dismantled", Ukrainian presidential aide Mykhaylo Podolyak said this week. The 19-kilometre-long Kerch Strait Bridge is the main military and civilian land corridor from Moscow to the occupied peninsula. "The bridge is an illegal object," Podolyak said. "So it has to be dismantled. It doesn't matter how – voluntarily or not.
RRussia reportedly closed Kerch Strait bridge to civilian traffic on Wednesday, in part to prevent a further exodus of Russians from Crimea. Tens of thousands of Russians have left the peninsula over the past week, following a series of successful Ukrainian attacks on Russian bases and infrastructure.
Ukraine must 'prepare for all scenarios' at Russian-occupied Zaporizhzhia nuclear power plant, warned Thursday its Minister of the Interior, Denys Monastyrsky. Ukraine's emergency services took part in a disaster response exercise this week amid fears of another Chernobyl-like disaster at the plant. "No one could have predicted that Russian troops would shoot nuclear reactors with tanks. It's unbelievable," said Monastyrsky, who added, "as long as the plant is controlled by Russia, there are major risks."
Meanwhile, the Russian Defense Ministry has continued to insist that its forces have no heavy weapons deployed in Zaporizhzhia, accusing Kyiv of preparing a "provocation" at the station. "Russian troops have no heavy weapons either on the territory of the station or in the areas surrounding it. There are only guard units," the ministry said in a statement Wednesday.
Ukraine's startup scene continues to show remarkable resilience despite the ongoing Russian invasion of the country, although nearly half now admit to having real concerns about their ability to continue operating at their current level without revenue, new investment or financial support. In a major new survey conducted by Emerging Europe and Tech Emerging Europe Advocates in partnership with the Ukrainian Start-up Fund, Ukraine's Ministry of Digital Transformation, TechUkraine, Global Tech Advocates and TA Ventures, over 48% of start-ups ups said revenue or new investment would be needed over the next three months to enable them to continue operating at current levels. An additional third of start-ups said they would face problems within six months.
Other news
Armenia is mourning the victims of the Surmalu market explosion in Yerevan which left at least 16 people dead on Sunday, as rescue operations continue to search for missing people. The Armenian government has declared August 17 and 18 days of national mourning for the victims. The cause of the explosion is still under investigation. Deputy Emergencies Minister Artush Grigorian said on Wednesday that workers were focusing all their efforts on finding survivors under the rubble.
NATO will increase its peacekeeping force by Kosovo if there is an escalation of tensions with neighbors Serbia, the alliance chief said on Wednesday, on the eve of EU-facilitated talks between the distant neighbors in the Western Balkans. "We now have an important mission, a military presence in Kosovo of almost 4,000 troops," Jens Stoltenberg told a news conference after talks with Serbian President Aleksandar Vučić in Brussels, who was standing alongside him. .
around a thousand Hungarian protested for the second time in less than a week against relaxation of forest regulations by Prime Minister Viktor Orbán's government amid rising demand for firewood due to soaring gas and electricity prices. Nationalist Orbán's cabinet, citing the effects of war in neighboring Ukraine, eased logging regulations earlier this month, which activists and opposition parties say could accelerate deforestation and damage the environment.
Estonia pushed back "the most widespread cyberattacks since 2007", he said on Thursday, shortly after removing Soviet monuments in an area with an ethnic Russian majority. Russian hacker group Killnet claimed responsibility for the attack, saying on its Telegram account on Wednesday that it had blocked access to more than 200 public and private Estonian institutions, such as an online citizen identification system. However, an Estonian government official said on Thursday that the impact of the attack was limited.
Moldova Pro-Western President Maia Sandu said on Wednesday she did not understand why Russia imposes new embargo on Moldovan fruits, because the products of his country meet EU quality standards which are higher than Russian standards. Russia announced last week that it would block products from certain places in Moldova, excluding the Russian-backed breakaway region of Transnistria, on the grounds that they are contaminated with plant pests and diseases. .
Polish firefighters recovered 100 tonnes of dead fish from the Oder crossing Germany and Poland, heightening concerns of an environmental catastrophe for which no cause has yet been identified. "We have never had an operation of this scale on a river before," said Monika Nowakowska-Drynda of the National Fire Department press office on Tuesday. She confirmed that around 100 tonnes of dead fish had been recovered since Friday. More than 500 firefighters have recovered dead fish in Poland using booms, boats, quads and even a drone.
In a context of a sharp increase in exports to Russia, Armenia works to establish a new Black Sea ferry service from Georgia in Russia, officials said. While the inspiration for the new service appears to have been long-standing issues with bottlenecks on the Georgian-Russian border, it has taken on new importance and scrutiny in light of the war in Ukraine and the resulting international sanctions against Russia. Armenia's Economy Ministry said the service, from the Georgian port of Poti to Kavkaz in Russia, was due to start on June 15 but is now expected to start operating by the end of August.
The European Bank for Reconstruction and Development (EBRD) will lend 43 million euros for the construction of two wind farms in Croatia increase electricity production from renewable energies by more than 10%, the EBRD announced on Tuesday. The wind farms, to be built in the southwestern region of Zadar, will have a total grid capacity of 111 megawatts (MW), enough to power 85,000 homes and help avoid more than 78,000 tonnes of carbon emissions. CO2 per year, the bank said.
The father of one Polish daughter born as a result of in vitro fertilization (IVF) says he will sue the minister of education and the author of a textbook for a new school subject. The book compares IVF to "human breeding" and rhetorically asks "who will love such children?" The launch of the textbook, which will be used in Polish high schools from September, and the new subject itself, History and Present (Historia i Teraźniejszość), have drawn criticism from various politicians and activists, with the opposition claiming that the new class will be used by the ruling nationalist Law and Justice (PiS) party to promote its conservative agenda.
David Popovici, 17, from Romania became youngest swimmer to break world record in men's 100m freestyle last Saturday, beating the mark established more than 13 years ago in the same pool. Popovici touched in 46.86 seconds at the European Championships to surpass the 46.91 time set by Brazilian César Cielo at the 2009 World Championships, which were also held at Rome's historic Foro Italico.
---
Unlike many news and information platforms, Emerging Europe is free to read, and always will be. There is no paywall here. We are independent, not affiliated with or representing any political party or commercial organization. We want the best for emerging Europe, nothing more, nothing less. Your support will help us continue to promote this magnificent region.
You can contribute here. Thanks.