NIO Stock: Forget Europe (NYSE: NIO)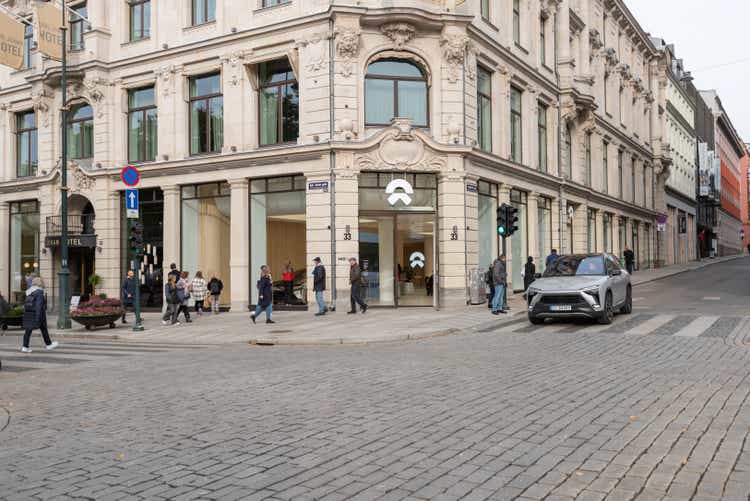 NIO Inc. (NYSE: NIO) has made great strides in developing and bringing to market its flagship electric SUVs such as the ES6, ES8 and EC6. As I mentioned in my last article on company, the automaker has a great opportunity to continue to expand in China and become one of the region's most dominant electric vehicle brands. At the same time, I also mentioned that NIO is unlikely to become a truly global brand anytime soon. The problem is that the company is not firmly established in either the United States or Europe, which is the world's second largest market for electric vehicles. With increasing competition in Europe, mostly from traditional automakers, who aim to become electric-only brands in the future, the opportunity for NIO to establish a decent presence there is diminishing every day.
That doesn't mean the business won't grow, though. The reality is that China's EV market is large enough to have dozens, if not hundreds, of EVs succeeding as it continues to grow at an aggressive rate. However, there are some challenges outside of China that NIO is unlikely to meet in time, and it will lose the opportunity to become a dominant brand outside the mainland. Therefore, in this article, I will mainly describe the challenges that NIO faces as it aims to conquer Europe.
Given this, I still hold NIO shares for the short term due to its large exposure to the Chinese EV market, but I don't see how it will be able to successfully expand to the outside world any time soon. At the same time, my position is minimal compared to other assets I own primarily due to the political risks of owning Chinese stocks at this point.
The pressure is real
Currently, the European electric vehicle market is the world's second largest electric vehicle market after China. In the years to come, it is expected is expected to grow around 40% annually and be worth around $855 billion by 2028. Given such an attractive growth rate, it makes sense that Chinese electric vehicle brands such as NIO are trying to establish a solid foothold in such a market. The company has previously stated that it plans to become a global brand. Europe therefore seems to be the ideal place to achieve its objectives, especially since NIO has already started to develop slowly there. However, despite its appeal, expanding into the European EV market is likely to become a major challenge for NIO.
Currently, NIO only sells its flagship ES8 electric SUV in Norway in small quantities. As it tries to copy Tesla's (TSLA) strategy in the region, the changing market environment is not going to favor it as it did with its US counterpart a few years ago. According to NIO 2025 target roadmapthe company plans to enter four new European markets this year and reach 25 countries in subsequent years.
The problem with that is that as NIO grows slowly, its competitors, mostly legacy manufacturers rapidly developing their own electric vehicles, have already captured a large chunk of the market over the past two years and will only expand. their lead over the long-term newcomers. Course. Tesla, Peugeot and Renault already to sell tens of thousands of their electric vehicles in the region, while Volkswagen (OTCPK:VWAGY) is already Planning launch a $25,000 electric vehicle in 2025.
Given this, NIO will not be able to expand rapidly in Europe due to increased competition and a lack of a strong foothold there. Moreover, the company does not at this stage have any real assets that could have helped it get a head start on the continent. First of all, NIO continues to outsource the production of its vehicles to a third party in China and won't have a manufacturing plant in Europe anytime soon. As a result, increased shipping costs compared to its European competitors is going to be one of NIO's biggest drawbacks in Europe.
On top of that, supply chain disruptions caused by the Russian invasion of Ukraine and the resurgence of Covid-19 in China are only making matters worse for NIO. Just recently, the company announced that its April shipments were already down around 50% M/M, and if supply chains aren't repaired soon, there's a risk the company won't be able to s expand into four new European countries this year at all.
Tesla has had similar issues in the past. He only approached them in invest 4 billion euros in the development of Gigafactory Berlin, which made it easier for the company to avoid losing its dominant position in Europe due to global instability. Given that NIO currently has just over $8 billion in cash, the company is unlikely to have its own manufacturing facility in Europe. As a result, it will be extremely difficult for it to compete with traditional automakers and established competitors in the world's second largest electric vehicle market.
The essential
Despite the creation of decent electric vehicles, NIO at this stage is able to significantly expand its business only in China. Although it has ambitious plans for global expansion, so far it has only managed to sell a small amount of ES8 in Norway. At the same time, there is a risk that supply chain disruptions will prevent it from expanding to other European countries this year. Additionally, the lack of manufacturing facilities in Europe makes it difficult to establish a strong foothold in the region and compete with traditional automakers. The last China-EU summit showed that there is not much enthusiasm between the two sides regarding the signing of the free trade agreement, which has been in the works for years, so it is unlikely that Chinese companies are getting favorable trading conditions within the European Union in the foreseeable future.
Considering all of this, I still believe that NIO continues to be a growth game and is China's next dark horse. However, investors should not expect significant returns from the European market in the foreseeable future. It is more than certain at this stage that the next earnings report, to be released later this month, will show that European sales have not had a major impact on NIO's finances. Therefore, although I continue to hold a small long position in NIO, I would not expect the planned expansion in Europe to help the company improve its fundamentals anytime soon.