12 million jobs lost to automation in Europe by 2040 • The Register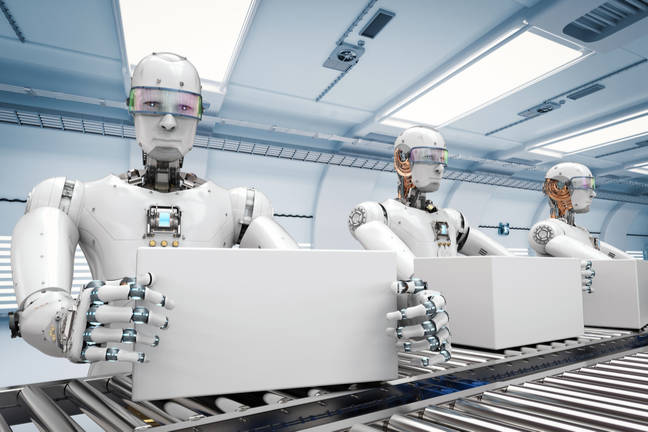 Across Europe, 12 million jobs will be lost by 2040 due to automation technologies, according to analyst firm Forrester Research.
With the pandemic increasing the adoption of digital technologies in businesses, the region should embrace automation to meet its demographic challenges, the analyst said in a new report. By 2050, Europe's five largest economies – France, Germany, Italy, Spain and the UK – are expected to have 30 million fewer people of working age.
The report also mentions that investments in automation will become key to how European governments view their competitiveness.
Forrester points out that health care and pensions will still have to be paid at a higher rate. Infrastructure and other services would also need continued funding, with potentially lower tax revenues.
One part the report failed to highlight is the irony inherent in the idea that automation would then be part of Europe's response to the loss not just of taxes owed by those who simply won't exist due to the coming demographic crisis, but also the loss of taxes on low-end jobs (which would have been paid by the workers usurped by the machines).
The researchers said that by 2035, about one in four people will be 65 or older, up from one in 13 in 1950; by 2060, this figure will increase to one in three.
Green energy and digital technologies could help offset jobs lost to automation, Forrester added.
Mid-skilled labor jobs that consist of simple, routine tasks in retail, restaurants, leisure and hospitality are most at risk from automation.
According to Forrester, "workers with little bargaining power are most at risk of displacement, especially in countries where many are on casual work contracts, including zero-hours contracts in the UK, which do not 'do not require guaranteed working hours, or part-time jobs with low wages, like "mini-jobs" in Germany."
Routine jobs account for 38% of the workforce in Germany, 34% in France and 31% in the UK, according to the study.
Michael O'Grady, senior forecasting analyst at Forrester, argued that reduced productivity due to COVID-19 will force organizations to automate manual processes and improve remote working.
"However, the pandemic is just one factor among many that will shape the future of work in Europe over the next two decades. European organizations are also in a particularly strong position to embrace automation due to the declining working-age population in Europe and the high number of routine low-skilled jobs that can be easily automated.
"Automation will eventually become an integral part of how European governments and employers think about their competitiveness and manage their older population," he said.
Forrester said robotic process automation (RPA) — using software to automate screen-based office tasks — is playing a big role and growing rapidly. The RPA market was valued at $17 billion in 2019, he said, while 21% of European executives said their organization would use RPA in 2021.
Investors certainly see the appeal of automation technologies. RPA specialist UiPath was valued at around $35.8 billion when it went public last year. UK RPA specialist Blue Prism has accepted a £1.243 billion cash offer from Bolt Bidco, the subsidiary of technology holdings SS&C which beat out a £1.1 billion offer from Vista Equity Partners in December last year.
Meanwhile, established app vendors have been on a sort of complementary mission when it comes to automation. Application big names Oracle and SAP are among the software vendors that have launched RPA-like features in the past two years.
In a separate report, Forrester said there would be only one winner among application vendors in the RPA race – and that would be Microsoft. ®